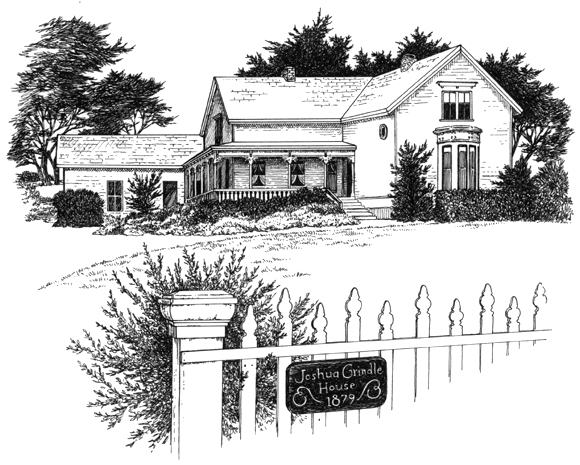 The Joshua Grindle Inn began its life as the home of Joshua Grindle. Joshua Grindle was born in Surry, Maine on Nov. 3, 1844 to Robert and March Varnum Grindle. The 1860 census lists Robert Grindle as "keeper of the town poor" and Joshua himself was noted as "mine worker" at that time although it was also noted that he left school to become a sailor at the tender age of 14. In April of 1865, just shy of his 21st birthday, Joshua married Ella Treworgy of Roxbury, Maine.
In 1869 when Joshua was 25 he decided to explore the West like many other young men of that time. He and Henry Jarvis, a childhood friend who would later become a business partner and a prominent Mendocino businessman, traveled to California by crossing the dangerous Isthmus of Panama. They were drawn to Mendocino, which was still called Big River, because the forests reminded them of Maine and Joshua decided he was meant to live here. The story goes that he traveled back to Maine to get Ella but she refused to make the travel to California and Joshua returned without her.
Joshua and his friend Henry Jarvis began to work for the Mendocino Lumber Company. His first job was as a chopper and later as a raftsman on Big River, taking logs to the mill. They would tie logs together to form rafts and then float them down with the tide every few days.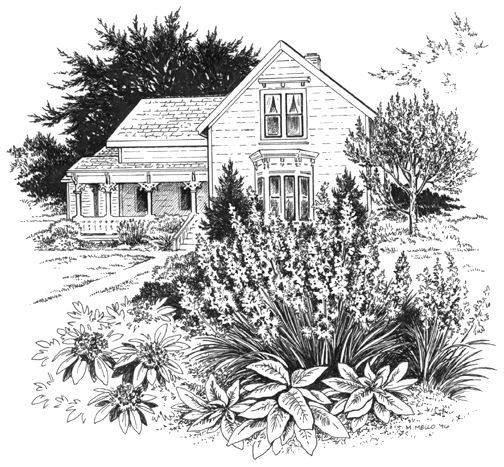 In 1878 when Joshua was 34, he married Alice Hills, the daughter of Spencer and Zenith Hills. Spencer was a dairy farmer who owned 250 acres. Alice was a schoolteacher but only 20 years old and it was rather scandalous that she should marry the older Joshua instead of Jerome Ford Jr., a young local and eligible bachelor. In any event, Alice's generous parents gifted the young couple with a large parcel of land right next door to their own house which was built in 1855. Construction of the house began in 1879 and Joshua and Alice lived together during it's construction for three happy years. Sadly, on January 30, 1882 Alice died in childbirth not living to see the completion of the home being built next to her parent's home. Their child survived, a boy who was named Alliston after his mother.
After Alice's death, Joshua met Emma Van Schaick who had come to Mendocino to visit her sister Mrs. Beardsly. Emma was a musician and a music teacher, and she and Joshua shared a mutual love of music, he being a great singer. It is said that when the couple attended the local Presbyterian Church everyone could hear Joshua's booming bass voice. They married in June of 1883. That July, Joshua continued to improve his house and in November the work continued. From the Mendocino Beacon Nov. 7, 1883: "Mr. JD Johnson had finished the woodwork and given placed to plumbers, painters and paper hangers. Fred Brunner pipe-laying, soldering, and doing whatever else was necessary to conduct cold and hot water to kitchen, laundry, bath, bedrooms, etc." The house was finally finished in October of 1885. It went from being described as "a tasteful and convenient little place" by the Caspar Courier to "a comfortable and elegant residence" by The Mendocino Beacon.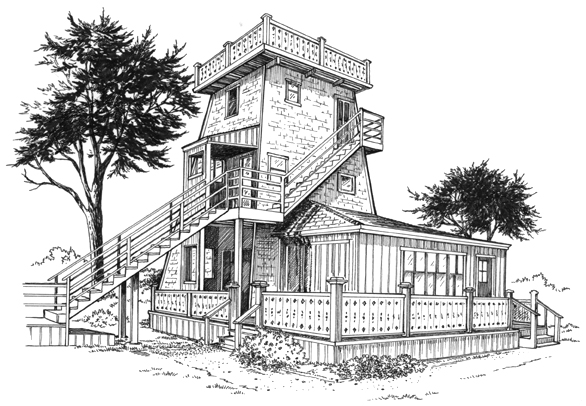 Alas, Joshua suffered another loss in November 1888 when Emma also died in childbirth. In an excerpt from an article about the marriage from the Mendocino Beacon Nov. 10, 1888: "This union proved a constant source of happiness to both, and usefulness to the community." There was no mention of the baby which presumably did not survive.
In May of 1889, Joshua went back East and stayed for two months and upon his return he met the woman with whom he would spend the rest of his life. Her name was Eliza. Eliza Ann Young had been born in 1853 near Janesville, Wisconsin. In her early life she moved to California where she worked as a nurse. She later met and married Mr. Tobin who worked for the mill in Mendocino. When his health started failing the moved to Sonoma where he died. The couple had two children, Johanna and Elsie. Eliza Ann Tobin and her two daughters had returned to Mendocino. In January 1890, when she was 37 she married Joshua who was then 46. Eliza was highly active in social, civic and church life. She was described as generous, warmhearted, a friend to everyone and always helping sick people.
During this time the Joshua Grindle House became the location of many parties and festivities. In 1892 Eliza's daughter Elsie married Perley Maxwell, the well-known builder there. A description of a party there in 1896: "The spacious parlors were thrown open and games and music were indulged in."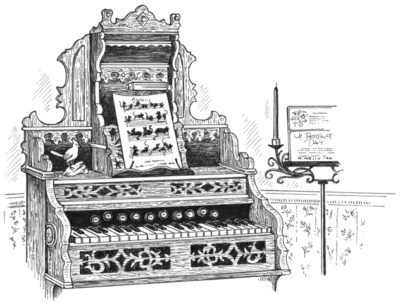 In 1898, Joshua, then 55 retired from the Mendocino Lumber Company. He apparently enjoyed his time there and was quite a character as reflected in the Mendocino Beacon on Oct. 18, 1890: "He would carry the money in twenty dollar gold pieces, and upon reaching the camp, would dump the entire contents on the cookhouse table with a flourish. Needless to say, this attracted considerable attention. This was his intention, for he had a penchant for stating some for his activities."
After retiring from the lumber mill Joshua started a business with Fred W. Stickney called "Grindle and Stickney Brokers". In 1905 they entered the banking business, starting the 'Mendocino Bank of Commerce'. The bank stood at the corner of Main and Kastan which now houses "Out of this World", an eclectic shop of visual aids such as telescopes and cameras. Joshua became the first president of the bank and was known as the town banker for the rest of his life. A story from that time: "The couple owned a spanking team of sorrel horses and Eliza could be seen tooling around in the rig. Grindle had financial interests in San Francisco and many times guests from there would be invited here… the steam schooner Seafoam made weekly visits up the coast and unloaded at Little River where they had a wharf. At that time, Grindle too the team to pick up guests which he did with his customary flair. The team would come down the street at a full gallop, with the reins hanging loose over the dashboard. When he came to the corner by the August Mahlman Saloon, he would miss the corner post by inches."
Besides being the town banker Joshua was active in the community. For example, 1896-1904 he was on the Board of Directors for the Mendocino Electric Light and Power Co. He was the Scribe for the Mendocino Chapter of Royal Arch Masons (1904), on the Board of Trustees for the grammar school, Treasurer for the local Chamber of Commerce (1911), a member of the Grand Jury and Juvenile committee. He was also involved with the Presbyterian Church as a Deacon, an Elder, Superintendent of Sunday School and in the choir. He was always ready to sing at a funeral and he even taught singing!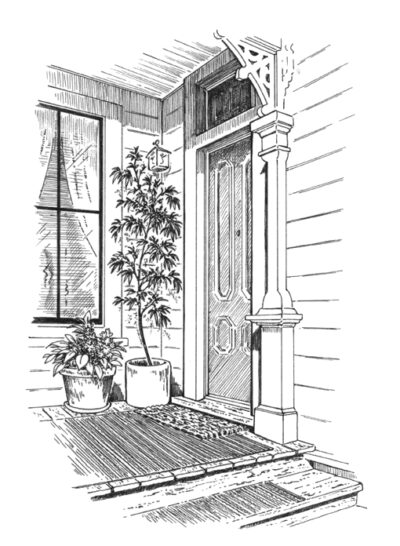 By 1914 Joshua's son Alliston was the chief electrician on a naval submarine and Joshua often sent him boxes of prize-winning Mendocino apples. Sadly, on March 26, 1915 Alliston was killed. His submarine the USS F4 sunk during maneuvers off the harbor in Honolulu. Joshua was truly devastated. He had lost his only child.
After Alliston's death Joshua sold everything except his home and gave the money to charity. He also donated a large plot of land then known as Grindle Park. The property now houses the fire station across Hwy 1 on Little Lake Road.
In their later years Eliza became an invalid but Joshua could still be seen making sourdough pancakes on the porch every morning. Eliza eventually summoned her niece Elsie Packard Sutherland to come to Mendocino to help take care of her and Joshua. Elsie had been born in Mendocino in 1886 to Mr. and Mrs. Justin Packard, Mendocino community leaders and pioneers. Elsie went away to school in the East and eventually married George Robert Sutherland in Maine at the late age of 31. Two years into their marriage, while Elsie was pregnant, George died. Elsie named their son George Robert "Bob" after her husband and she returned to Mendocino in 1924. A gentleman by the name of George Escola worked here on the property and in 1926 Elsie and George were married. George was born in Finland and worked as a woodsman, engineer, and blacksmith during his life. Descendants of the Escola family still meet every year nearby and are often guests of the Joshua Grindle Inn.
Eliza Ann Grindle died on December 29, 1927 age 75. Joshua Grindle died from complications of the flu one year later, on December 27, 1928 age 84.
A final quote from the Mendocino Beacon about Joshua read: "Mr. Grindle will always be remembered… for his very generous nature. Money meant nothing to him except to bring pleasure and do good for others. He contributed generously to every worthy cause."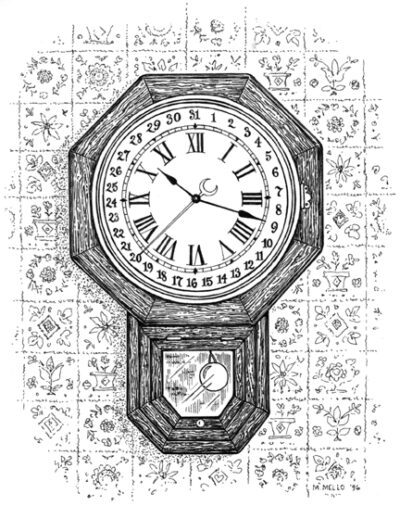 Elsie Packard Sutherland inherited the Joshua Grindle house and she and George lived her for several years. Ultimately Elsie outlived George by ten years and eventually moved to Ukiah to live with her adult son "Bob" Sutherland. Bob Sutherland graduated from the California School for Mechanical Arts and worked for the county of Mendocino. In 1968 he sold the house to Elizabeth R. Abernathy of Colusa County.
Elizabeth Abernathy trained as a bacteriologist, was an accomplished cellist and organist. She also served as President on the Board of the Mendocino Art Center. She moved to Mendocino in 1966 and into the Joshua Grindle House two years later. She and her daughter Evelyn spent over two years restoring and improving the house. The house received a new foundation, was completely re-wired and re-plumbed. The porch roof and floor were rebuilt, and broken corbels replaced.
In 1978, Bill and Gwen Jacobsen purchased the property and created the Joshua Grindle Inn. They came from the bay area to escape the corporate world and enjoy the north coast. In 1986 they built the Cottage and Water Tower to expand their business. They still live in Mendocino.
In 1990, Jim and Arlene Moorehouse purchased the inn. They continued improving the property by gutting a garage in the back of the property and transforming into a cute one-bedroom house to live in. We refer to it here as 'The Bungalow'. They also created a cookbook, Mendocino Mornings, a collection of their breakfast recipes. When I was researching the inn before purchasing it, I bought a used Mendocino Mornings online and used the Grindle Garden Quiche recipe to perfect my own quiches. Jim and Arlene now reside in the Ukiah Valley.
In 2001, Charles and Cindy Reinhart purchased the inn. Charles worked at the Hill House and Cindy worked at the Mendocino Hotel. They are the only owners we have not met, but we hear nothing but wonderful things from previous guests who were lucky enough to stay here during their time. Charles and Cindy now live in Texas.
In 2015, Jeff and Lindsey Myers purchased the property. They put in a new reservation system, website, and various other upgrades. They sold the property to Ken and Kate, who started work on New Year's Day 2019. Since acquiring the inn, we have added a 1909 Victrola and vintage 1918 piano to the parlor as well as sprucing up the rooms with new linens, mattresses and in some cases, new paint. It is a marathon owning one of these old Victorians and I suspect the list of improvements will only continue to grow.
We hope you enjoyed this short history of the inn. Whether it is your first time or you have stopped counting, thank you for finding us and we hope you enjoy your stay here in Mendocino.