Restaurants
During the slower winter season, some places close for a month to give staff a break. During tourist season, some places get so busy they stop allowing take-out. It's best to make a reservation before you arrive. Here are some of our favorite eateries in the area.
Mendocino
Luna – 955 Ukiah St. – Northern Italian cuisine (Tue-Sun) – 707-962-3093
Café Beaujolais – 961 Ukiah St.- French cuisine (Wed-Sun) – 707-937-5614
Fog Eater Café- Albion and Kasten – Vegan (Wed-Sun) – 707-397-1806
Trillium – 10390 Kasten St. – (Fri-Tue) – 707-937-3200
McCallum House – 45020 Albion St., (Thurs- Mon 4:30-8pm)
Patterson's Pub – 10485 Lansing St. – English pub – 707-937-4782
Mendocino Café- 10451 Lansing St. – International – 707-937-6141
Frankie's – 44951 Ukiah St. – Pizza, Ice cream – 707-937-2436
Good Life Café – 10483 Lansing St. – Deli\cafe – 707-937-0836
Fort Bragg Restaurants
Princess Seafood Market 32096 N Harbor Dr. – (Fri-Mon) Closes @ 5pm
KW SaltWater Grill – 542 N. Main St. – (Tue-Sun)- 707-900-1667
Noyo Harbor Inn – 500 Casa Del Noyo – (Th-Sun)- 707-961-8000
Piaci Pizza – 120 W. Redwood – Pizzeria – 707-961-1133
Asian Fusion- 301 N. Main – Asian fare – 707-200-4744
Jenny's Giant Burgers – 940 N. Main – Burger n Fries – 707-964-2235
Little River\Albion Restaurants
Little River Inn – 7901 CA-1 – American cuisine – 707-937-5942
Albion River Inn – 3790 CA-1 – American cuisine – 707-937-1919
Ledford House – 3000 CA-1 – Cal-Med cuisine – 707-937-0282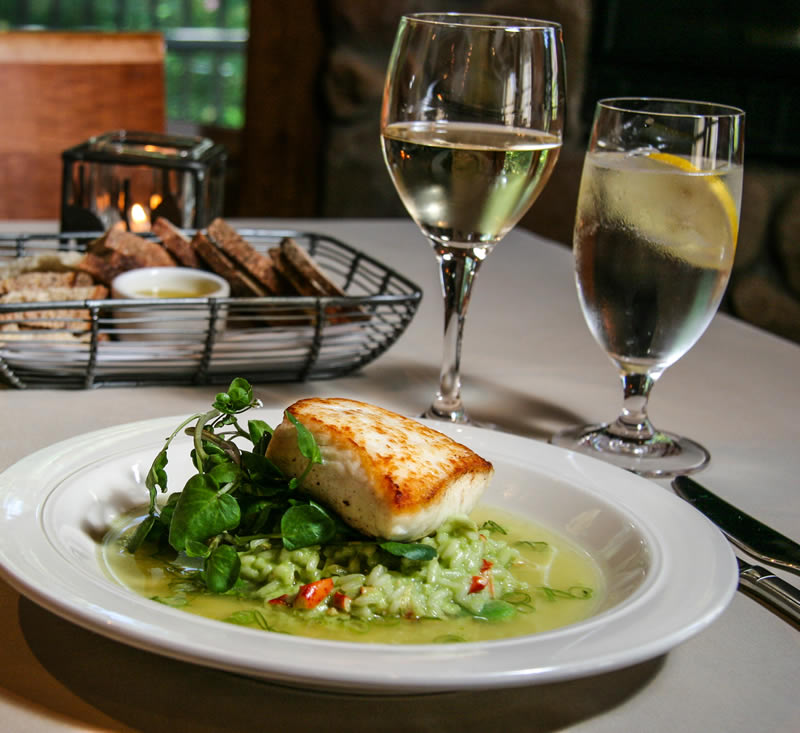 Activities & Attractions
So many places, not enough time. Here are some of our favorite places to visit on the coast and in the surrounding area.
Anderson Valley Wineries. This valley, about 10,000 acres, is known for their Pinot Noir due to the cool mornings and warm afternoons. A stop at an Anderson Valley winery is a must.
Redwood trees. A ride through Anderson Valley includes a close encounter with virgin redwoods. Hendy Woods State Park in Philo is along the way and one of the most accessible virgin redwoods stands in California.
Mendo Land Trust. This group of preservationists have quietly created some of the best hiking destinations along the coast. Visit their website to download their Coastal Trail Guide, which covers the entire county coastline.
There are many state parks in the area as well. Mckerricher, Jug Handle, Russian Gulch, Big River, Van Damme and they all offer something different and unique. From private coves to scenic waterways and even a lighthouse. There's a lot to explore within a short distance from the inn.
Russian Gulch Waterfall – if you're short on time, the waterfall can be more easily accessed by using the back entrance of Russian Gulch. From the inn, continue north, past that main park entrance about 3 miles until you reach road 409, turn right onto the 409. Follow this road until the pavement ends and find a parking spot. On you right, there will be a fire road gate. This is the north boundary entrance to Russian Gulch Park. Follow this fire road and soon you will pass a horse camp on your left, continue going straight. Pass through a second gate and watch for the single track trail on your left. Take the single track trail and follow it until rejoins with a fire road. Go left, downhill on the fire road. Follow this path approximate 3/10 mile and you will reach the waterfall. Watch your step on the carved rock steps.
Spring Ranch – Spring Ranch is now considered part of Van Damme State Park. Located between Mendocino and Little River this rustic late 1800's era farm is now a recreation area. This old farm once belonged to a man who owned the local butcher shop on Main Street. From the inn, head south on Hwy 1 about 1.5 miles. The dirt parking lot is on the right, just after the road sign marker for Gordon Lane. Park in the lot and take the trail leading west, away from Hwy 1. Follow this trail down several ecological steps until you reach the ocean. The coastline in either direction has walking trails. During low tide, seals can be seen by going all the way to the right (north) once you reach the coast. Plan for wind and lots of sun.
Glass Beach – located in Ft. Bragg. If you follow the crowd, you will be underwhelmed with glass beach, Fort Bragg's old dump. But take this route instead to see remnants of the real dump. Park at the Glass Beach lot and take the paved trail. Do not veer right with all the others, stay straight. When you get to the Cliffside, look to your left for two large concrete drainpipes. The area for you to explore is where the water from this drain pipe is landing. You can scurry down the cliff fairly easily by going down to the area to the left of the drainpipe. Going at low tide will reveal a molten metal area with a lot of small ceramic pieces embedded in the mass. The dump was periodically set afire to make more room available and the contents became metamorphic trash. Watch out for metal and glass. Wear safe shoes and be careful where you put your hands.
Big River – KAYAK it! If you have one, bring it or you can rent one from Catch a Canoe.
E-Bikes. The village is very accessible for e-bikes. However, the state parks only allow certain ebikes on certain roads\trails. Click here for State Park e-bike policy.
Skunk Train and Rail Bikes. The Skunk Train is located in Ft. Bragg and offer guests a ride into the forest on either the historic train or a rail bike. Contact them directly for reservations by visiting their website.